The World Wide Shred Collab – Pt2
It's Time For The New Improved World Wide Shred Collab!
Bigger! Better! Faster! Stronger!
My ambition for this project is to make it even more EPIC and CINEMATIC using 3D text and effects combined with an Ancient/Medieval vibe.
The graphics down below is "Work in progress" however it should reveal the style/vibe i'm going for. I'm super excited to start this project have some amazing musicians join in!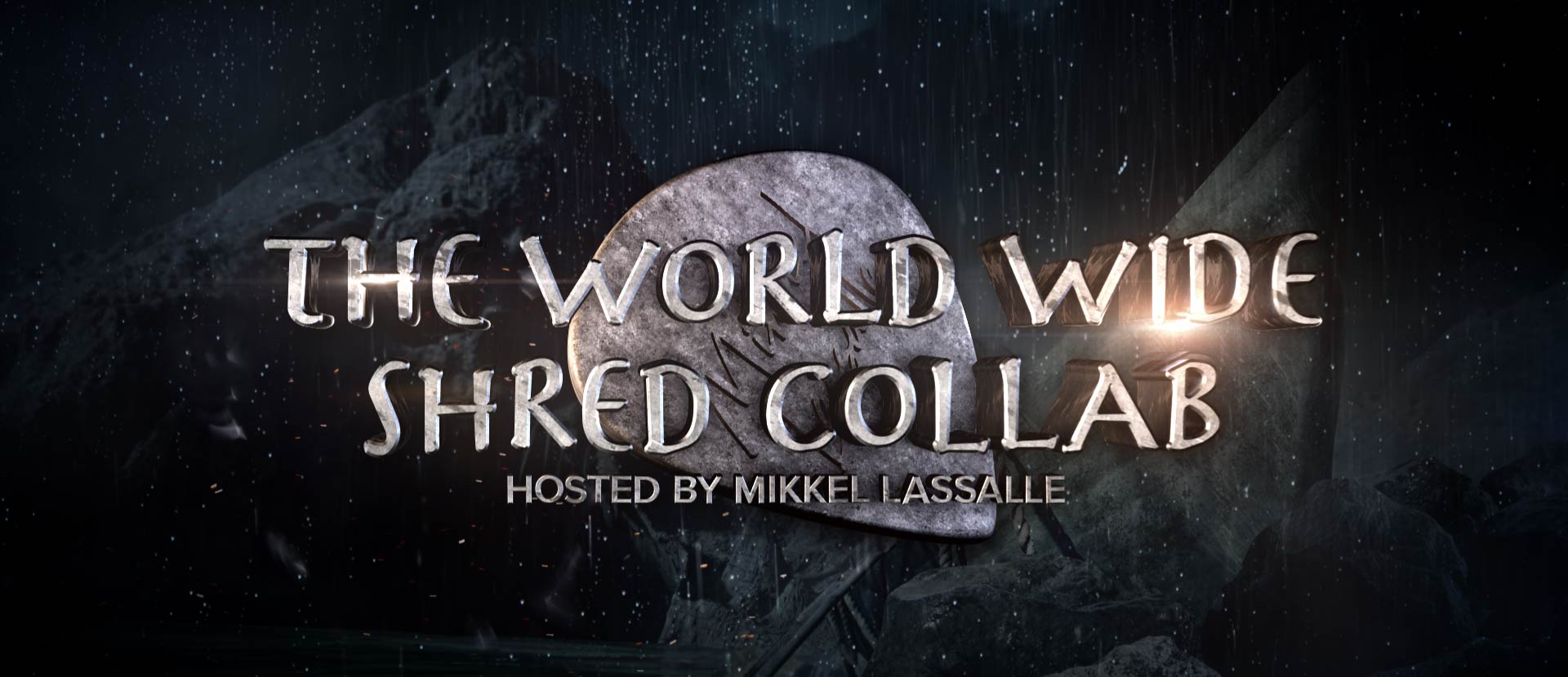 Here's all the detail's you need, if you have any questions you can always contact me on Instagram, Facebook or Discord.
Invitation To The World Wide Shred Collaboration – PT2 Hosted By Mikkel Lasalle
I'm working on The New Improved World Wide Shred Collaboration with various artist's and content creators. The collaboration will find place on YouTube and the deadline for contribution is October 1, 2022.
The backing track and the bass tabs to the backing track are in the zip folder and also instructions to the format and the files you need to deliver, I also state them below. I strive for aesthetic content so I will add some graphical elements to spice up the quality and overall experience!
Download Link to Zip File With Backing Track in and Rhythm Guitar Tabs in GP5/PDF format.
DOWNLOAD HERE: https://mkls.dk/World_Wide_Shred_Collab_PT2_Backing_Track_Files_117BPM.zip
Gaint Guitar Solo/Shred Collab Info:
– The Backing Track is 117BPM (Please do not change the BPM in your DAW)
– Choose any part you like to play your solo over (Breakdown, clean part, whatever you prefer.)
– Keep your solo around 30-50sec, more or less is also perfectly okay.
– Play in any style you like as long as it suit's a part of the backing track (Clean, distortion, fast, slow)
What I need you to Deliver:
A video file of you playing your part in 1920×1080 widescreen or better (4K) – (Not the tall instagram story/reel format) – please let the solo AND backing track be audible in the video so I know where your solo is placed on the backing track. Feel free to add multiple angles to boost the edit! And if possible make room/space/air in the buttom for your nametag graphics.
– The Raw Guitar solo audio WITH and WITHOUT the backing track (With FX is okay, but if you want i can also RE-AMP the DI File)
– The social links you want me to share in the description (YouTube, Instagram Spotify)
– Your name / artist alias you want me to show with animated graphics
– Sponsor logos, band logos, artist logos – and i will add them to your video.
How and where to upload the files:
– You can use Wetransfer.com and send the files to this email: "Mikkel321@hotmail.com"
– If you have an FTP or other option this can also work.
– ONCE THE FILES HAVE BEEN UPLOADED, SHOOT ME A DM so i can confirm and i have recieved the files!
Backing Track Soundcloud Link:

Join Our Discord Server Where I Created A Room For All Participants To
Chat, Talk Promotion, Release, And More Details Regarding the Official Release.
Best Regards,
Mikkel Lassalle
IG: https://www.instagram.com/lassalle_shredder
YOUTUBE: https://www.youtube.com/mikkellassalle
FACEBOOK: https://www.facebook.com/MikkelLassalle
WEBSITE: www.MKLS.dk
CONTACT: Mikkel321@hotmail.com